Help Us to keep our shelter
In any part of the world a natural disaster can occur, in some there is no warning in advance when they are going to occur, in other cases yes, normally people have plans for a natural disaster but what about pets?  Companion animals are usually the ones who suffer the most from these tragedies, since they do not prepare a plan for the pet, for this reason in this note some tips are going to be given to have your pet prepared in the event of a natural disaster.
The identification of the pet, collar with the owner's, name plate, telephone, address, tracking chip.  Cats and dogs must always be identified as in the event of a natural disaster they become very nervous and can easily get lost.

If they have given notice of a possible natural disaster, keep the pet suitcase ready where it is easy to transport it, for dogs and cats it is very important that they feel comfortable in these suitcases to be able to introduce them quickly, it is important that you always have inside this suitcase non-perishable food and water ready for emergency exit.  In the event that the pet is large and a pet suitcase is not an option, it is recommended to have the dog trained with a word that tells it to follow its owner, or get into the vehicle immediately.

Identify the shelters where animals are allowed, in many cases the house collapses so people look for shelters but in many they do not let pets in, so it is important to identify where they are allowed before it happens.  Also identify nearby veterinary clinics in case of emergency.

 On many occasions the exact day on which it occurs is not known and the owners are not at home and the pet is alone, it is very important to tell a neighbor what to do to get their pet out, so that they have time to get to the place, every time the pet is left alone, leave it a shelter where it can be safeguarded in case of disaster.

The meeting points are used a lot by people, pets can also do it with previous training, familiarize the pet with a place where it identifies security and that it can go in case it escapes and gets lost.

Emergency kit for the pet It is important to have a suitcase ready for the pet with the following things:

Food and water minimum for 2 weeks, For cats litter and box, Pillowcase, First aid kit, Vaccination record up to date, belts and coats, pet suitcase, microchip number, and Contact information for the owner and close relatives

Always keep your pet in mind in your family's evacuation plan, teach them commands, in the case of cats it is important that they know their hiding places and that they get used to the pet suitcase.

 It is important that you know first aid for pets.

In the event that your pet is injured in a natural disaster, keep in mind: do not get too close to the dog or cat as it hurts and is scared and its behavior will be different, everything with great calm and respect, do not saturate the dog or hurt cat with hugs and kisses and take him to the vet as quickly as possible.

After the emergency, companion animals are disoriented and can change their behavior, it is important to be patient and accompany them in this process (Granado et al 2017).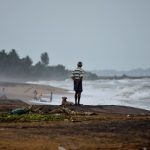 Pets are another member of the family and they must be treated as such, in difficult times they are always there, for these reasons always take care of your pet and prepare them for this type of event.
Please follow us on our social media to learn about our shelter, actions and stories.
Also, you can donate here
Granado, G, R.  Macias G, J.  2017. Veterinary care for companion animals in response to disasters.  Animals in disaster, risk management. University of Guadalajara.  Page 175.